Bremer Appartmentvermietung
Picture Gallery
Video-Tour of the apartment:
Some Pictures:

The kitchen with balcony. When the weather is fine the sun will shine through the glass roof of the balcony while you can enjoy your breakfast with Croissants from the market outside...

The kitchen is furnished with modern cupboards, a round coffee-shop-style table, two chairs, a ceramic stove top and a dish washer. There is a lamp underneath each cupboard and the ceiling lamp can be dimmed for a comfortable ambience.

The balcony of the kitchen with view on the neighbouring houses and gardens.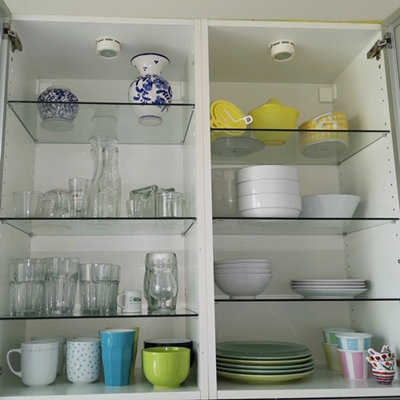 The kitchen is fully equipped. Here you see some of the dishes.

Kitchen table with view on the balcony.

The living room with a view on a painted bunker which is surrounded by many trees and the Findorff market.

View from the sofa to the kitchen. The bedroom is to the left on the corridor.

Equipped with a new and large flatscreen TV which is connected to the internet.

View from the study into the living room.

Lots of books in different languages at your disposal in the study room.

The little office: A view through the window shows the trees surrounding the market.

The bedromm with a 1,60 m bed. There are two oversized-duvets with 1,55 x 2,20 m each! No cold feet in this bed :-)

View into the mirror of the wardrobe.

With wardrobe behind, view towards the window and the garden.

The bathroom, tiled entirely in white. The door towards the corridor is located on the left hand side.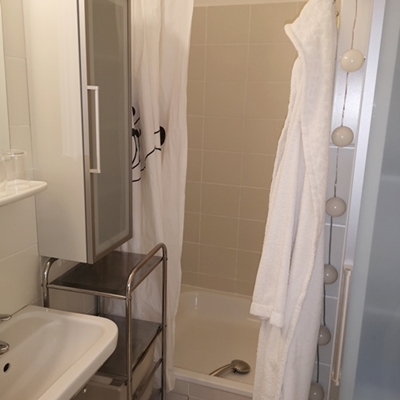 The opposite direction: the shower.

View from the front door: You can see part of the bunker and some trees. The findorff market lies behind the bunker.

Looking left down the street in the direction of the lovely "Bürger"-Park.

Looking right in the direction of Hemmstraße and the shops. There are various nice restaurants in Neukirchstraße

A lady's bike (26") is at your disposal. The bike is vested with two suspensions.